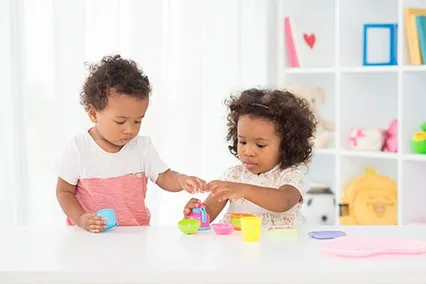 Our office, as well as the American Dental Association (ADA), the American Academy of Pediatric Dentistry (AAPD), and the American Academy of Pediatrics (AAP) all recommend establishing a "Dental Home" for your child by one year of age. We are pleased that you selected our office and are delighted to welcome you.
The best way to prepare your child for the first visit...is to not prepare at all. Allow us to explain. Allowing your child to hear of your own experiences, or overhear others talk about their dental experiences, almost always results in giving your child a negative impression of dentistry, no matter how well the dentist is spoken of. For example, your child might hear a friend say, "Dr. X is so nice, why, he never hurts at all!" Oddly enough, the one thing that your child will remember from this statement is an association of "Dr. X" and "hurts". For the smoothest introductory visit we therefore suggest the following:
Say nothing until the day of the visit.
On the day of the visit, say only, "We are going to my friend the dentist, and he cleans and counts teeth." If your child asks other questions, answer honestly that you don't know, "...but you can ask the dentist." Chances are that this is true since rarely do any two children require exactly the same treatment, and it is impossible to predict what your child will require until we meet.
One should never allow your child to hear stories about experiences of others with dentists - good or bad!
Do not offer treats or bribes of any kind for "being good"! Bribes tend to indicate to children that something unpleasant is about to happen, and that actually tends to create more apprehension. Think about it. You never have to bribe your child to go someplace nice, so why bribe your child to go to the dentist?
One should not make promises as to what the dentist "will only do" or, "will not do". If some other treatment is necessary, then your child will feel that we have been deceitful.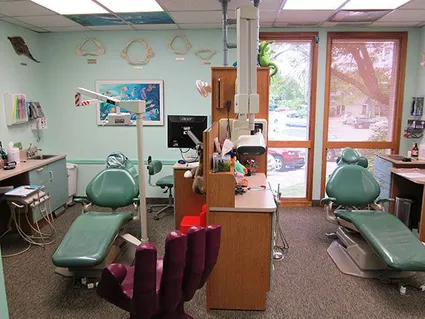 Modern techniques, equipment, and facilities for children enable us today to provide dental care that was unheard of a few years ago. We are very proud that the patients in our practice have demonstrated a better than 90% NO DECAY rate. Dr. Kochman and our hygienists will be showing you what your child can do to help prevent tooth decay.
We will do our best to be prompt, and we appreciate promptness from our patients. If you are unable to keep an appointment, please give our office at least one day of notice so that an emergency patient may be offered this time.
24 hour emergency coverage is available for our patients. Should you require services after regular hours for an emergency, please call our office and the recorded message will advise you how Dr. Kochman may be reached. Dr. Kochman is always available for consultations with parents, so if you have any questions at any time please feel free to contact our office.
We strive to make each and every visit to our office a fun one!
New Patient Forms