We Make Smiles Happen
Comprehensive dental care for children and young adults in a "child-friendly" environment.
Our philosophy is to provide the same quality of care for each patient as we would to our own children.
We emphasize prevention! Over 90% of our patients are cavity free on their six month re-care visits
For your children's security, we provide 24 hour emergency coverage.
Early morning appointments (7:00 AM) are available, and are popular, with our patients and their parents with busy schedules.
Convenient location with ample parking and full handicap accessibility.
Office Hours:
Monday - Thursday: 7:00am - 5:00pm Friday: 9:00am - 1:00pm 24 Hour Emergency Coverage
---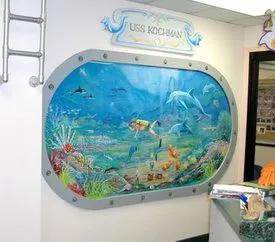 A calm child-friendly environment is provided by the aquatic decor. Our modern state of the art office is designed like a submarine with interesting portholes through which children can look and see both aquariums with live fish and other aquatic scenes. TV monitors at each treatment chair allow children to view movies while they are being treated. Alternatively, they can entertain themselves with games, toys and video games which are found everywhere!
Our game room is filled with numerous toys, puzzles, and books for children of all ages, as well as numerous video games. Movies are also displayed on monitors in the reception room for added entertainment.
---
Services We Provide
At Pittsford Pediatric Dentistry, we perform all aspects of Pediatric Dentistry for our patients including:
Dental cleanings at customized time intervals depending upon the individual needs of our patients
Cavity prevention procedures (fluoride treatments, fluoride varnish, pit and fissure sealants, diet counseling)
Pre-natal counseling and infant examinations starting at 12 months as recommended by the American Academy of Pediatric Dentistry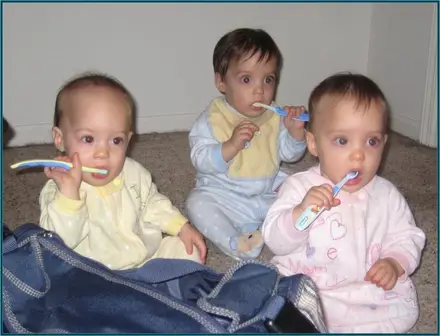 Restorative care (fillings – various options are available, nerve treatments, crowns)
Minor oral surgery (tooth extractions and minor surgical repair of oral soft tissue injuries)
Minor orthodontic tooth movement (crossbite correction, space maintainers, management of finger sucking and tongue thrusting habits)
Before
After
Cosmetic dental procedures (tooth bleaching, cosmetic bonding)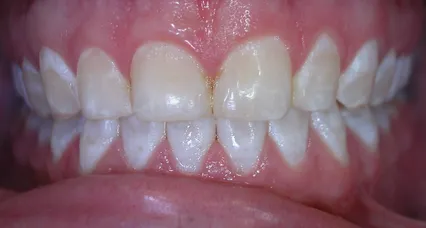 Before
After
Before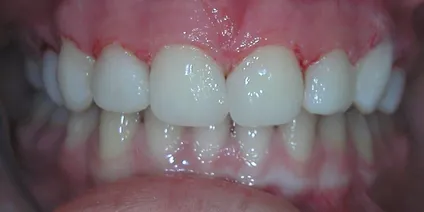 After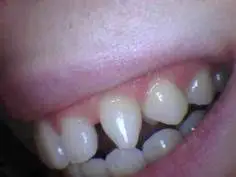 Before
After
Sports medicine (athletic mouthguards, repair of dental sports injuries)
Before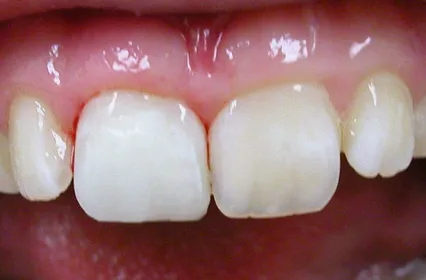 After
---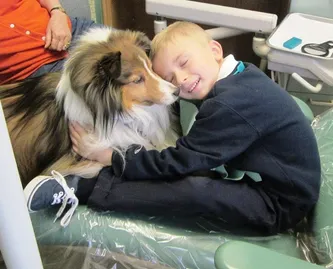 Dental Therapy Dogs
Dental Therapy Dogs regularly visit our office to entertain our patients, and to assist if there are any anxiety issues. We are pleased to offer this unique and important service for our patients.
Our staff at Pittsford Pediatric Dentistry are always searching for innovative new services that we can incorporate into our practice for our patients and their parents, to help create a friendly, relaxed, and caring atmosphere. We are pleased to offer a unique service, our "Dental Dog Days" program, for our patient families at Pittsford Pediatric Dentistry.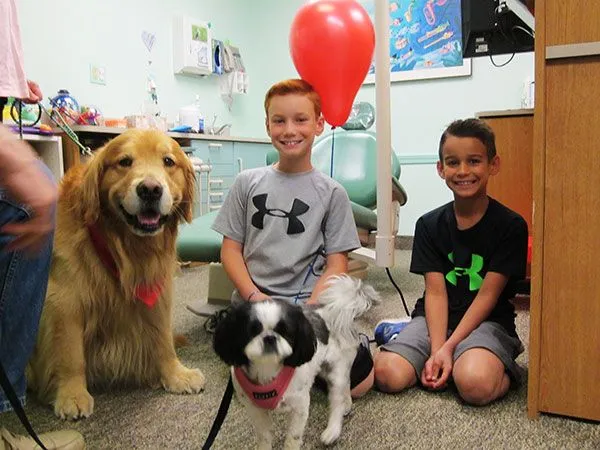 Arrangements have been made for "registered Therapy Dogs" (certified by Therapy Dogs International) to periodically visit our office with their trainers and be available to interact and entertain patients and their families. These registered therapy dogs are specially trained to help provide stress-relief for those patients who need it but we have seen how all of our patients, their families, yes and even our own staff have enjoyed interacting with them.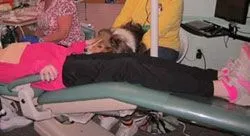 The therapy dogs all have had to pass a rigorous training program and evaluation to become certified. They are trained to master not only basic obedience, but also be completely comfortable and accept common medical appliances. They are specially trained to tolerate clumsy handling (petting) and various distractions. Therapy Dogs International requires a yearly veterinary updated health record, but, because these therapy dogs also go to Strong Memorial Hospital, they are required to have veterinary health updates twice a year. Therapy dogs are known to lower blood pressure, ease tensions, and increase patients' positive attitudes. These therapy dogs routinely visit Strong Memorial Hospital, local schools, and retirement homes and we are very fortunate that they have agreed to come and visit with our patients in our office.
Patient interactions with the therapy dogs may consist of petting, snuggling, tricks, and related activities. All participating patients may be given the opportunity to hold the dogs. The goal of this program is to provide stress-relief for the patient. Program participation requires prior permission from the parent or legal guardian. Of course if any parent for any reason prefers that their child not be involved with the therapy dogs, our staff make every effort to ensure that appointments are not knowingly scheduled on a day when our dental therapy dogs will be visiting. If a parent feels that their child may potentially benefit from this program, we try to specifically coordinate the child's appointments with the visits by our therapy dogs.
Dr. Kochman is pleased to offer a modern Digital Radiography system which provides reduced x-ray exposures for our patients, reduced waiting times, and environmentally friendly non-chemical processing of x-rays.
Parents are always welcome and encouraged to participate in the care of their children by coming into the treatment areas.
Dr. Kochman is always available to discuss any question parents may have about particular issues or dental treatments.
Our office participates with Excellus Blue Cross/ Blue Shield, Metropolitan Life, and Healthplex Child Health Plus insurances.
---
For more information on children's oral health, please visit the following organizations by clicking on their logo: